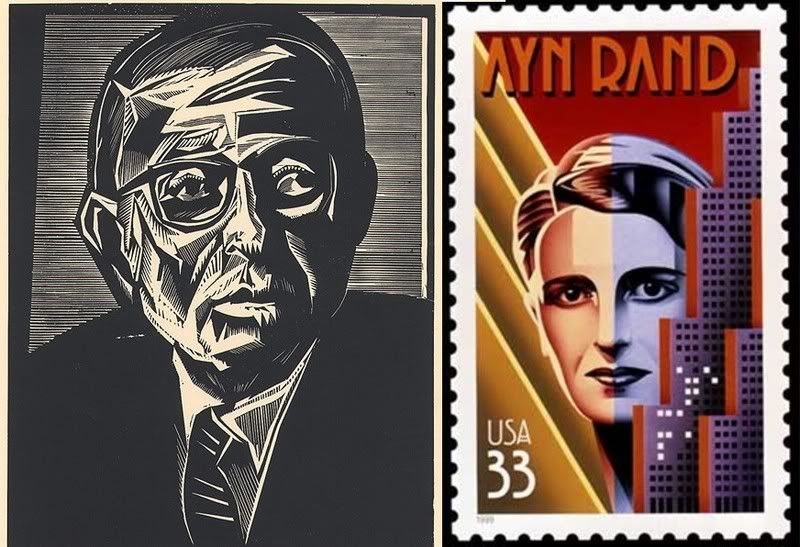 I am planning a slightly more involved post on Sartre for tomorrow, but I wanted to preface it with a question that has plagued me for some time. Are Sartre and Ayn Rand just cultural variations on a theme?

As a disclaimer, let me point out that I think Sartre's nifty. Also, reading Sartre was one of the factors that pushed me from being interested in philosophy to wanting to study it professionally (I know I shouldn't admit things like this publicly, but in my defense: I was 16 at the time). And I still think that, in many ways, Being and Nothingness is a genuinely great work of philosophy: it was one of the very few major works that aimed not just at resolving abstract metaphysical problems, but very sharply followed that ancient dictum of philosophy: Know Thyself. Sartre's account of self-deception and the numerous permutations of it worked out throughout the book serve me well to this day in analyzing both myself and other people.

My feelings for Ayn Rand are a bit less warm. I read The Fountainhead when I was 17 (in order to enter the essay contest) and tried to follow up by reading some of her theoretical work; fortunately, I'd already read enough real philosophy by then to find her pretty laughable. I still think The Fountainhead is, overall, a good novel despite being seriously undermined by the attempts to get a "message" across (though Sinclair Lewis's Arrowsmith is a more realistic and overall superior attempt at something similar: for one thing, it's peopled by real characters rather than thinly disguised social virtues and vices). But really, I pretty much think Rand is a joke. Sartre, on the other hand, isn't. And his tireless political commitment, though occasionally misguided, is impressive. So, what's the connection?

What they share, really, is a similar delusion, or perhaps a similar lie: that they are conveying an uncomfortable truth when, in fact, they are telling the people exactly what the people want to hear. Let's look at Rand's case. The harsh truths she tells her American audience go something like this: Capitalism is wonderful. The world is objectively real. The highest value is individuality. Individuality consists of never collaborating with others, as that would water down the uniqueness of this individuality. And, naturally, morality requires that we care only about our own happiness and self-interest. Yup, integrity means looking out for number one. Obviously this is earth-shattering stuff.

Sartre is a better writer (though he also has a tendency to undermine the plausibility and readability of his fiction by overly un-subtle philosophical messages), and a much better philosopher, but this is to be expected: the French public is simply more demanding of its intellectuals. But what seems a bit disingenuous are his remarks about the "dreadful burden" of our freedom. He is telling a public that has just emerged from an occupation (in which many were complicit), a public that no longer trusts the old values, that, hey, it's ok: the old values are only right if you choose them. And you've got the power to break free. All you have to do is recognize it! Sure, Sartre was accused of corrupting the youth and preaching despair, and I suppose his philosophy would've been more troubling if he were not preaching to the choir. But in that case, he wouldn't have become the wildly popular figure that he was, and nobody would've cared what he was preaching. And yes, as I will discuss in my next post, there really is a troubling, dreadful element in Sartre's view of freedom; whether he saw what it was, however, is questionable.

Lastly, both made the argument that one particular value (the individual's life for Rand, freedom for Sartre) was the highest of values, since without it no other values are possible. Unless I'm missing something, both arguments commit the same fallacy of thinking that a necessary condition for the existence of values both (1) necessarily has value in itself, and (2) is of more fundamental value than any of the values that follow from it. (And yes, all of this is just a teeny bit caricatured. This isn't one of my serious posts. You probably guessed that from the title.)

So while I will go on reading Sartre, slipping him occasionally into papers, and having late-night debates about him over beer, while ignoring Rand and making fun of her followers, I just can't help wondering if they were cast from a similar mold. All this, of course, pertains not so much to similarities in their philosophies, but similarities in what made them famous. But we can be a little more serious tomorrow...