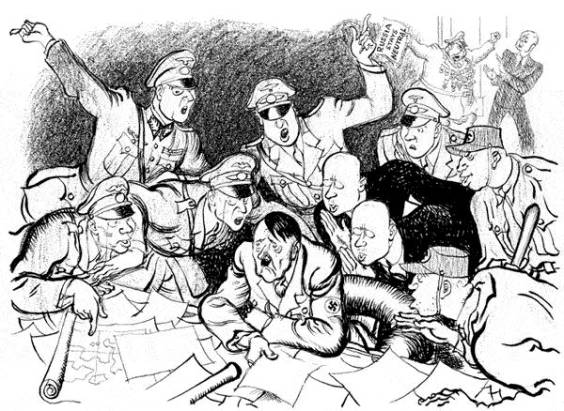 When does a state of war exist among states? Earlier I started posting on this topic, but then got side-tracked by my own lack of focus. I began that post by noting that, while there is a easy answer to this question—two states are at war whenever the relevant sovereign powers have officially declared war to exist—but being so easy, it is also uninteresting.


I am interested in a plausible definition of war, and this requires some theory about what war is. This is complicated by the fact—I think—that two (or more) states can be at war without acutal, on the ground (or in the air) hostilities having actually broken out. England and France were at war with Germany starting in 1939, but there was no actual fighting for seven months. In fact, until the era of rapid mobilization, this state of war without occurrent hostitilies was quite common. Alternatively, hostilities may obtain between countries even while they are not at war (U.S.-Iranian relations in the 1980's and 1990's as a possible example).

My first idea was to borrow some concepts from Habermas, and to model states of war and peace off of his concepts of communicative and strategic discourse. To be at war is for only strategic relations to obtain among states, regardless of whether or not actual hostilities are present. One is at war, that is to say, when one has recognized the other state as an enemy—an enemy being a foe towards whom all attempts at mutual understanding and cooperation have been renounced, and only strategic interaction acknowledged. This theory relies upon the appropriateness of the analogy between communicative discourse aimed at understanding and diplomacy, on the one hand, and strategic discourse aimed at manipulation and war on the other. I think that there is something to this. Diplomacy, at its best, does seek to establish a common set of principles both (or more) countries accept as normatively binding. But the problem with this is probably obvious: much if not most diplomacy is not oriented towards achieving understanding, but instead operates according to precisely the sort of manipulation Habermas cites as characteristic of strategic discourse. Strategic discourse is manipulative, it should be noted, but it need not be deceptive. Strategic discourse distinguishes itself from communicative discourse in that it does not rely upon the mutual acceptance of norms. The gun-to-the-head scenario is a classic example: with a gun to your head, I can get you to admit that you love Bono, but not because you find the Bono-loving norm rationally binding. It's just that you would prefer to make that foolish declaration over being shot. Strategic dicourse is governed by a utility calculus, and typically, even if it is deceptive, this is only because in general most strategic interaction involve situations of imperfect information (both as to facts and to intentions) with both sides trying to game the other.

This coda, however, is not fatal to the analogy. We could define war as that situation existing among states where all intention towards communicative understanding has been forsworn, and only strategic calculations figure. But again, there is a problem. For one thing, it is the fundamental thesis of Realpolitik that this is precisely the situation obtaining among states at all times, both in peace and in war. Realpolitik could even be defined as the theory that only stragetic relations obtain among states. Therefore, Realpolitik and this theory of war are inconsistent with one another, and one or the other would have to abandoned. There's nothing absurdly wrong with this, but I'd prefer a definition of war that is neutral among competing foreign policy frameworks.

So let's add this addendum: two states are at war when all communicative understanding has been forsworn, only strategic calculations figure, and physical hostilties are either threatened or actual. According to this definition, the Vietnam War was, in fact, a war, but so was the Phoney War (because hostilities, while not actual, were threatened). Anyway, I'm not completely satisfied with this definition, but it's good enough for now.